Packing
The magnets are packed in high quality plastic bags, Protective foam boxes, cartons and wooden pallets are used to ensure that every package is firm and secure and the products are very well protected. For air shipment, iron sheets and bubble packs are also used to shield magnetized magnets so that external effects of magnetic fields can be minimized to meet the requirements of aviation safety.
Shipping
We provide safe and timely shipping by air and by sea through Fedex, UPS, DHL and TNT. Tracking information is available. Your appointed forwarder is also welcome.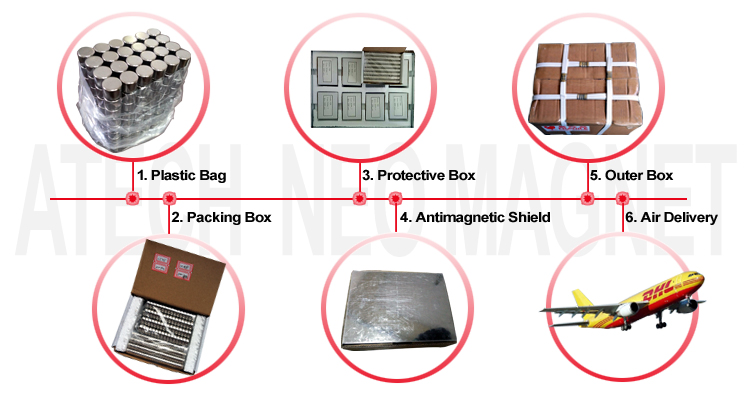 Warnings:
Neodymium magnets can be dangerous, as they generate extremely strong pull forces, therefore must be handled with care to avoid personal injury and damage to the magnets. Fingers and other body parts can get severely pinched between two attracting magnets. Neodymium magnets are brittle, and can shatter if allowed to slam together, launching small pieces at great speeds. Eye protection should be worn when handling there magnets.
The strong magnetic fields of neodymium magnets can also damage electronic appliances and magnetic media, as well as affect the operation of medical devices. Never place neodymium magnets near television, VCRs, computers, credit cards, magnetic I.D.cards, video tapes, pacemakers and etc.