China plays a leading role in the global rare earth supply chain. China produces more than 60% of the world's rare earth, and further extends its control over the global supply of rare earth to the leading position of the industrial chain, including the production of rare earth magnets. "China uses rare earths to take over the magnet industry," James litinsky, chief executive of MP materials, told Argus media last year that they were able to do so because there had been no supply chain for rare earths in the western hemisphere for years. China will continue to move downstream to compete for a larger business share. " Meanwhile, Beijing is trying to strengthen its supervision over the entire industrial chain to consolidate its dominant position in rare earth. Nevertheless, despite the fact that China has produced most of the world's rare earth magnets, some Chinese researchers point out that China's competition continues on the most advanced and value-added rare earth products. In the past decade, more and more rare earth permanent magnet manufacturers have shifted their production capacity to China, largely due to their proximity to raw material supply. After China imposed a rare earth embargo on Japan due to diplomatic disputes in 2010, some Japanese magnet manufacturers also considered diversifying their production capacity and transferring it to China to mitigate unexpected supply chain risks. For example, Hitachi Metals, the world's leading magnet manufacturer, announced in 2016 a joint venture with Zhong Ke San Huan, a large Chinese magnet manufacturer, explaining that the move was "necessary for its magnet business to grow globally.".
China also benefits from lower costs. Nabeel mancheri, secretary-general of the Brussels based rare earth industry association, said the cost of producing rare earth magnets in China is about 20 per cent cheaper than in Europe because of the lower labor and energy costs. But as the Chinese government tightens environmental and land-use regulations, production costs will rise, and manciri predicts that the cost of producing a rare earth magnet in China and Europe will be the same in 15 years.
For China, its leading position in the field of rare earth magnets has brought strategic advantages. Even in the US China trade war, the US imports of rare earth magnets from China in 2019 increased by 12% over the previous year. According to Ping An Securities, the United States has never imposed tariffs on rare earth magnets imported from China, even though the United States has imposed a large number of tariffs on items such as bicycles and Bibles. It can be said that the rare earth permanent magnet industry is one of the few industries with an important position in International competition and global competitiveness in China, "said Ping An Securities analyst. Chinese rare earth magnet manufacturers also enjoy another competitive advantage: preferential tax regulations. Ginger international trade and investment, a Singaporean company specializing in rare earth supply chain management, said the price of all rare earth oxides, metals and magnets includes a 13% VAT. If a company exports rare earths from China, they won't get a VAT rebate. However, when rare earth magnets are exported, VAT will be refunded in full. This means that "China's NdFeB producers have a 13% raw material cost advantage over foreign NdFeB producers," .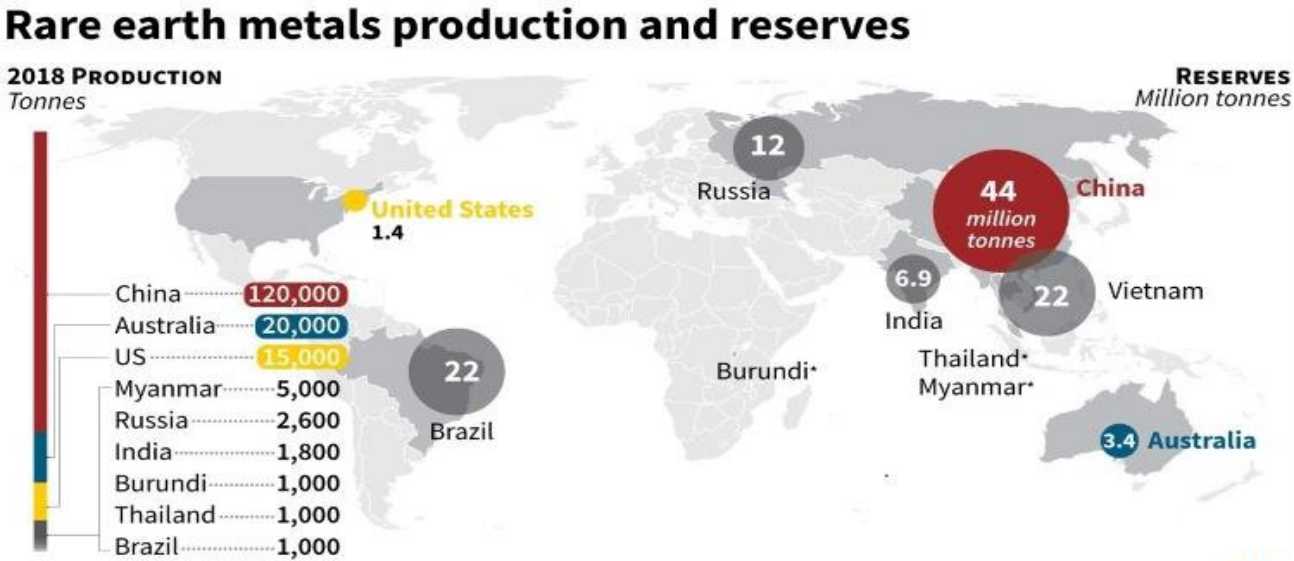 Source:https://qz.com/1999894/why-rare-earth-magnets-are-vital-to-the-global-climate-economy/