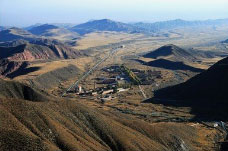 BMO Capital Markets stated that the rise in China's rare earth metal prices in November reflected geopolitical tensions between the country and developed countries.When BMO commodity analyst Colin Hamilton commented on the sudden price increase in the research report, he also said that as countries around the world consider the self-sufficiency of rare earths and other important minerals, they have also formulated more with trade restrictions and economic protectionism, the market "is planning a long-term transformation in the next few years, and we think this may lead to a gradual weakening of China's dominant position in processing capabilities."
In November, the prices of all major rare earth sources in China soared, but especially the prices for magnets. In particular, the research report mentioned neodymium, which is the most common rare earth in the manufacture of magnets. It has risen by 27% since the beginning of November and has exceeded 50% so far this year. The prices of several other major rare earths also rose last month, including dysprosium (+17%), gadolinium (+9%) and terbium (+27%).Hamilton pointed out that another factor in the price surge is that the new law took effect in China on December 1. It is called the "Export Control Law", and it has formulated new regulations to allow the government to better control the export of technology and rare earths.
Hamilton said: "Market participants increasingly believe that the introduction of new laws will result in China's rare earth-based export restrictions in the hands of major partners, including the United States."Although China's exports of rare earth metals have been declining in recent years, Hamilton's report pointed out that exports of rare earth-based magnets have actually been on the rise due to increased global demand, including the United States. The new law further restricts exports. "The major US customers (or the national reserve) seem to have been buying as much material as possible. In September, US imports of rare earth magnets reached 480 tons, the highest monthly import volume since 2016. "
Countries have taken some measures at the policy level to resolve China's dominant position and strengthen its domestic rare earth production. In Africa, the European Union, Australia and the Americas, concerns about China's control of the market have been driving exploration and development projects and have attracted more attention from political leaders.Hamilton pointed out: "In May 2019, the U.S. Senator introduced legislation aimed at encouraging the development of domestic rare earth supply, while the U.S. Department of Defense requested an increase in federal funding to support domestic rare earth production."
In May of this year, the Pentagon allocated grants to Australian mining company Lynas Corp. (ASX: LYC) and Nevada's MP Materials (NYSE: MP) for rare earth separation facilities in Texas and California. By late September, US President Donald Trump signed an executive order declaring a national mining emergency. Prior to this, the US Department of Commerce proposed to establish partnerships with allies such as Canada and Australia to ensure greater access to rare earths and other important minerals.
At the same time, in Canada, the Saskatchewan government pledged to invest 31 million Canadian dollars in August 2020 to build Canada's first rare earth processing facility, which is scheduled to be put into operation by the end of 2022.Hamilton said that as the government continues to provide funding for new projects, he expects this to "further promote China's capacity building in the next few years." BMO Capital Markets is an investment banking subsidiary of Bank of Montreal.